Industries Served
Alternative Energy / Electric Vehicles
PMD was an early player in the Fuel Cell and Advanced Battery industries, chosen in a global search as the integrator to design/ build a First-of-a-Kind fully automated fuel cell assembly line, which was installed in Germany. Our expertise includes Laser Cutting and Welding at High Accuracy and Close Tolerance, Web Handling, Electrode Thickness Measurement, Stacking, Solid Oxide Fuel Cells, and (SOFC) Test Stands, and well-rounded experience with a variety of battery technologies.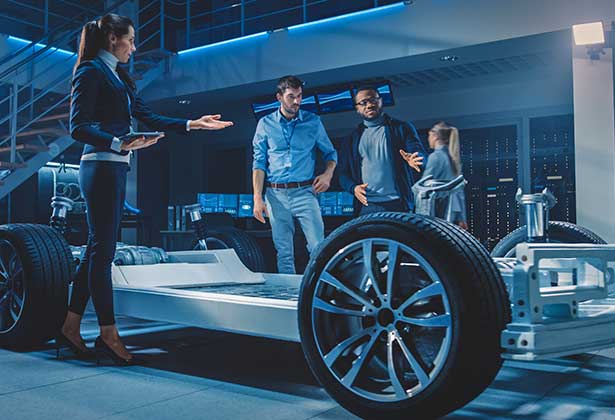 AREA OF EXPERTISE
Product Applications
Startups to Fortune 100, PMD has helped many clients bring their products to life, mass produce, or compile the process optimizing data critical to manufacturers worldwide. Let us help take your product to the next level.
PEM fuel cells
PEM Water electrolysis equipment
Solid oxide fuel cells
PEM Electrolysis Equipment
Electric Vehicle (E/V) component manufacturing
Chip Placement
Flat Glass processing equipment
Battery filling
Battery Mfg. Systems
Hydrogen Processing Skids
Stacking Systems
AREA OF EXPERTISE
Process Application Examples
Adaptive Vision-Guided Robotics
Metrology Systems
Ultrasonic & Laser Welding, Bonding, and Curing
End of Line (EOL) Testing
Cleaning Systems
Adaptive Assembly
Web Handling
Dispensing & filling
Laser Marking
Integrated Oven Systems
AREA OF EXPERTISE
Electric Vehicle Automation
Autonomous Sensors
Fuel Cells
Drive Units
Batteries
Wire Harnesses
Rolling Assemblies
Window / Mirror Actuators
EV Battery Assembly & Testing
AREAS OF EXPERTISE
Breadth of Capabilities
PMD has the know how to leverage technology in manufacturing.
This is how time after time PMD has built success stories for our clients product launches, expansion initiatives and productivity enhancements.